I read a lot of really interesting Middle Grade novels during my Children's literature class last semester. Since it has been a while since I have read them, I feel that I cannot fully review them. So I have written mini-reviews to give you a good sample of the essence of these books!
~*~*~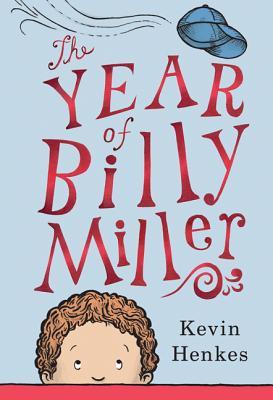 The Year of Billy Miller by Kevin Henkes, 240 pages
Genre: Juvenile Fiction, Children's Books, Easy Reader, Contemporary Fiction, Realistic Fiction
"When Billy Miller has a mishap at the statue of the Jolly Green Giant at the end of summer vacation, he ends up with a big lump on his head. What a way to start second grade, with a lump on your head! As the year goes by, though, Billy figures out how to navigate elementary school, how to appreciate his little sister, and how to be a more grown up and responsible member of the family and a help to his busy working mom and stay-at-home dad. Newbery Honor author and Caldecott Medalist Kevin Henkes delivers a short, satisfying, laugh-out-loud-funny school and family story that features a diorama homework assignment, a school poetry slam, cancelled sleepovers, and epic sibling temper tantrums. This is a perfect short novel for the early elementary grades."
My Snippet Review: Billy Miller is afraid he is not smart enough for 2nd grade after his accidental head injury over the summer. To motivate him, Billy's dad tells him that this will be "the year of Billy Miller." With a new outlook on life, Billy is determined to make this year the best year yet! This novel for beginning readers is divided into four parts, each part focusing on Billy's character development through his interactions with four major people in his life—"teacher," "father," "sister," "mother." This whimsical and heartwarming story showcases the ups and downs of childhood in a way that is approachable for young or struggling readers. Billy's relatable story is humorous and entertaining, and it would make a great reading circle discussion book for children ages 6-8.
My Bookshelf Rating: A Middle Shelf Book (3 out of 5 stars) (Elementary School)
~*~*~
North of Nowhere by Liz Kessler, 272 pages
Genre: Juvenile Fiction, Fantasy, Magical Realism, Time-Travel
"The sleepy seaside village of Porthaven hides a mystery: Mia's grandad has vanished, and nobody knows why. When Mia and her mom rush to Porthaven to help her grandmother, Mia imagines long dreary days with no one to talk to except for the old-time fisherman at her grandparents' pub. But that's before Mia finds a diary on an empty, docked fishing boat and starts exchanging notes with a local girl named Dee, a girl who seems much like her. Mia is excited about having a new friend, but why do their plans to meet each other never materialize? And why does Dee claim to be stuck at home due to violent storms when Mia sees only sunny skies? Will Mia be able to solve the mystery of where — and when — her grandfather and friend might be before time and tide forever wash away their futures?"
My Snippet Review: "I need to write it all down. That's the only way I'll believe it's true." This first line establishes the imaginative and thrilling tone of this standalone novel. A mysterious story with a fantastical twist, Liz Kessler's newest Middle Grade novel will keep you guessing from beginning to end. Mia's spring break plans are interrupted when her grandmother phones with horrible news: grandfather has vanished! So Mia travels with her mother to Porthaven to help her grandmother until her grandfather returns. Bored, lonely, and worried, Mia goes for a walk along the beach and stumbles onto a boat, finding a diary that will change her life forever. An adventurous tale of family and friendship told through Mia's exciting narration, this fast-paced story will excite fans of mysteries with hints of the unbelievable. Kessler's entrancing writing style will engage tween readers, pulling them into a magical world where anything is possible.
My Bookshelf Rating: A Second Shelf Book (2.5 out of 5 stars) (Elementary School)
~*~*~
Mister Orange by Truus Matti, 156 pages
Genre: Juvenile Fiction, Historical Fiction,
"The year: 1945. The place: Manhattan. Mr. Orange is told from the perspective of Linus Muller, the third of six children, whose parents own a grocery store. Linus' oldest brother Albie volunteers to fight in World War II, and it's his departure that sets the story in motion. When Albie leaves, Linus takes on new responsibilities, including grocery deliveries to customers. Among his customers is a man who has come from Europe and is an artist, but Linus never quite catches his name, so he names him Mr. Orange for the crate of fruit he delivers to him each week. The book revolves around Linus' experience of the war through his brother's departure and the conversations he has with Mr. Orange about war, heroes, the future, and the freedom to create. "
My Snippet Review: A book about the impact of war on families and artists. It is a short, heart-felt story about a boy who delivers fruit, and how the man he calls Mister Orange teaches him about the importance of imagination and hope. This is a different kind of World War II story, about how the was impacts families in the US. Honestly, this was a strange story. I read it quickly, but it wasn't something I would necessarily read again. But it was interesting, that's for sure.

My Bookshelf Rating: A Middle Shelf Book (3 out of 5 Stars) (Middle School)
~*~*~
The Boy in the Dress by
David Walliams, Illustrated by Quentin Blake, 240 pages
Genre: Juvenile Fiction, Multicultural Fiction, LGBTQ,
"Everybody needs friends, especially a boy in a dress! Dennis's life is boring and lonely. His mother left two years ago, his truck driver father is depressed, his brother is a bully and, worst of all, no hugging is one of their household rules. But one thing Dennis does have is soccer, he's the leading scorer on his team. Oh, and did we mention his secret passion for fashion?

When Dennis' friend Lisa discovers his stash of Vogue magazines, she convinces him to vamp it up and wear a dress to school. But in class, his hilarious hijinks as Denise are brought to a screeching halt when the headmaster discovers his secret.

And, more importantly, will Dennis gain the love and respect of his friends and family, even in a dress?"
My Snippet Review: In the same tones as Roald Dahl and Judy Blume, David Walliams tells a charming story of a boy who likes things that, according to his father, he shouldn't like. Dennis likes fashion, and when the prettiest girl in school invites him over to look at fashion magazines, he cannot resist the opportunity! This is a story about discovering who you are and staying true to it, no matter what people may think. This is also the first "Q" juvenile fiction novel I have come across, and I really liked it!
My Bookshelf Rating: A Fourth Shelf Book (4 out of 5 stars)! (Elementary?/Middle School)
~*~*~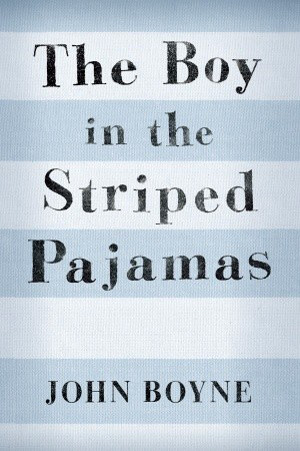 The Boy in the Striped Pajamas by John Boyne, 221 pages
Genre: Juvenile Fiction, Young Adult Fiction, Historical Fiction, Holocaust
"Berlin 1942

When Bruno returns home from school one day, he discovers that his belongings are being packed in crates. His father has received a promotion and the family must move from their home to a new house far far away, where there is no one to play with and nothing to do. A tall fence running alongside stretches as far as the eye can see and cuts him off from the strange people he can see in the distance.

But Bruno longs to be an explorer and decides that there must be more to this desolate new place than meets the eye. While exploring his new environment, he meets another boy whose life and circumstances are very different to his own, and their meeting results in a friendship that has devastating consequences."
My Snippet Review: Such an interesting perspective novel. This is a novel about the holocaust, but it is also a novel about any and all two-sides of the fence situations. Told in the style of a fable, this story feels simultaneously impersonal and personal, which is quite an odd reading sensation. But I really enjoyed this novel…I felt present in the story, I felt the frustration and the curiosity. And I think that, while this is clearly a Holocaust novel, I feel that this novel can also be used to help teach perspective of many historical periods. This is not a happy story, but I think it is an important story that can teach many lessons.

My Bookshelf Rating: A Middle Shelf Book (3.5 out of 5 Stars)! (Elementary and Middle School)