Because I love a good TV show, I decided to set my DVR to record the CW show The 100 because a) it looked awesome and b) it is based on a YA book that sounded awesome! I wanted to read the book–I even checked it out–but I got too busy with school and never got to it. And then my DVR was getting too full. And one night, husband was at work and I didn't feel like reading, so I started watching The 100.
And I kept watching.
And kept watching.
HOLY COW I FELL HARD FOR THIS SHOW!
If you don't know what I am talking about, here is the premise:
Hundreds of years ago, nuclear war destroyed the Earth unlivable, and people fled to the space stations in an effort to save the human race. Now, the space station is breaking down. Their only chance is to see if Earth can be inhabited. So they send 100 teenage criminals–who are on the edge of execution anyway–to see is they can survive on Earth once again. Naturally, when a bunch of teenagers are left to their own devices, chaos will ensue. But they have to ban together to survive this wild world.
I mean, this show is just really intriguing! And the characters are really addicting to watch. I was immediately drawn in to each and every character's personal story, and I loved seeing how they interacted with one another in a Lord of the Flies type environment. Honestly, I just devoured it in a couple of days!
So, naturally, I wanted to get my hands on the book IMMEDIATELY. Because I really liked this world and wanted to read it, too!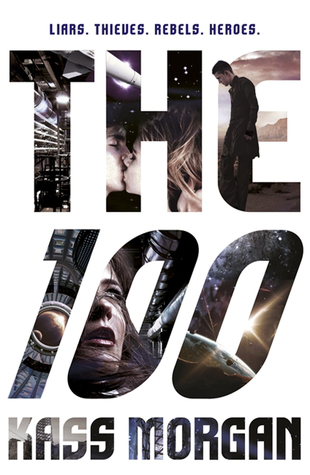 So I got it from the library.
And I read it.
And it was good. It was fine.
But honestly…..I just couldn't stop thinking about the TV show characters, and the way the show develops them. And the fact that this whole book only takes two episodes.
I just found it really hard to be objective about this book.
I really wanted to be. I went into this book with the complete purpose of experiencing the book for what the book is.
The characters in the book are different than the ones in the show. They are the same, but their personalities are a bit different. And that's not a bad thing. But having connected SO MUCH with the TV characters, I just found myself not connecting with these book characters. The only character that I liked equally was Bellamy. I just freakin' love Bellamy in either medium. He is such a dynamic character with a lot of depth covered by an "I can do this on my own" attitude.
The TV show has gone WAY past the plot of the first novel. The second novel in this series–Day 21–comes out in September, and I will probably read it because I want to see if she goes a different direction than the show does. But I know that, while I want to be objective about my reading of this book/series, I probably can't be. I think this is an instance where watching the show first has ruined any chance of me loving this book series. And now I will never know just how I feel about this book because I can't separate the TV show from the book.
And honestly, I feel like I should feel bad about this. But I don't, really. Because I just love the show. And I cannot wait for Season 2 to start. I need more Bellamy!
Has anyone else experienced this? Have you felt completely influenced by another version of a story? Let's talk! I need to know I am not alone!
Love and Jigsaw Puzzles,
Jennifer