Top Ten Tuesday is an original feature/weekly meme create at The Broke and the Bookish.
Today's Top Ten Tuesday is:
Books All The Peeps Are Telling Me To Read!
I read a lot of blogs. And those blogs always GUSH about books they love. And when they GUSH, I JUST WANT TO READ THAT BOOK, TOO! So this is a different take on today's topic. This list represents the books I read because one or more bloggers/friends wouldn't stop gushing about it!
In no particular order (just as I think of them, honestly)
1. We Were Liars by E. Lockhart

Started with: Jamie's Save the Date GUSH GUSH GUSH GUSH only 6 months before this book even came out! Then more reviews came out about it. Then my friend Rachel told me she read it in one sitting and had no idea how she felt about it, and that is what made me pick it up right then to read it.
Did it live up to the GUSH?: ABSOLUTELY YES! It was so unique and different. The writing style is beautiful, free verse prose, which fit the story perfectly! This is a review I will be writing later this week, so stay tuned! But a preview: THIS BOOK IS CRAZY GOOD.
2. Angus, Thongs, and Full-Frontal Snogging by Louise Rennison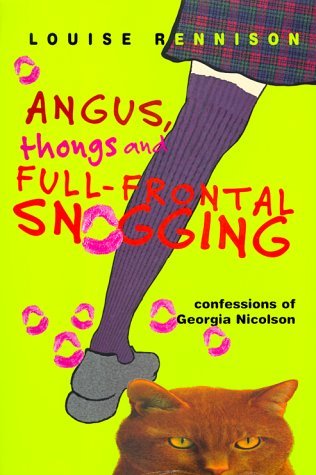 Started with: My best friend in high school told me about these fantastically mindless books that will make me feel like I am losing brain cells but I will just eat them up! I needed to read them, ASAP!
Did it live up to the GUSH?: OH MY GOSH YES! And the series just got better and better! British Girl humour about absolutely nothing but boys, boobs, and BOYS! Simply a riot. Here is my overview of the entire series!
3. Sharp Objects by Gillian Flynn
Started with: One of my coworkers told me about this dark and super twisted novel that I just HAD to read (as she knows I, too, am in the dark and twisty psychological thrillers!) This was right before Gone Girl was coming out.
Did it live up to the GUSH?: This is seriously one of the darkest, twistiest thrillers I have ever read! For real. It was eerie, it was thrilling, it was completely unexpected. It is what FORCED me into reading anything and everything this woman writes forever and ever, amen. If you haven't read Ms. Flynn, or have only read Gone Girl, pick this one up. This is truly representative of her talent. (You can see my full review here.)
4. Obsidian by Jennifer L. Armentrout

Started with: Kayleigh, a UK book blogger, did nothing but GUSH and RAVE about this series! It just sounded so incredibly great, and so many other bloggers just LOVED this series, so of course I was extremely curious and just needed to read it!
Did it live up to the GUSH?: NO WAY. For my full reason why it didn't, check out my review. The skinny: the sexy man was a complete jerk, the writing was blah, and the story itself is almost IDENTICAL to a VERY familiar paranormal series!
5. Die for Me (The Revenants Series) by Amy Plum
Started with: I feel like every blogger was reading this book before and right when the first book came out! And everyone loved it! And I really wanted to read a book about the spiritual realm. I was completely intrigued!
Did it live up to the GUSH?: Not at all. Book One was a complete bust! But I was intrigued enough to read book two, despite the lackluster prose and minimal character development. But Book Two was also a bust!  But that ending made me pick up book three with the hope that something would be redeemed. I skimmed it. It was worse than the first two.
6. Team Human by Justine Larbalestier and Sarah Rees Brennan

Started with: The Book Smugglers. I read their review and was immediately intrigued! A satire book about paranormal romance?! COUNT ME IN!
Did it live up to the GUSH?: Oh yes! This book is extremely clever, witty, and fun! It has a lot of depth to the story despite being a satirical piece of fiction. I really enjoyed every second of this book when I read it!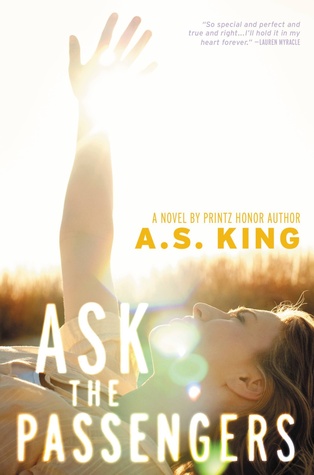 7. Ask the Passengers by A.S. King
Started with: Laura, my real life blogger friend, had just read this book that I was iffy about reading. And she GUSHED and GUSHED about how wonderful it was. So I picked it up immediately.
Did it live up to the GUSH?: OH GOODNESS YES! This book is beautiful, powerful, and thought-provoking. A realistic book about a real girl who is trying to learn how to love herself and love others the way that she needs to love them.
8. Pointe by Brandy Colbert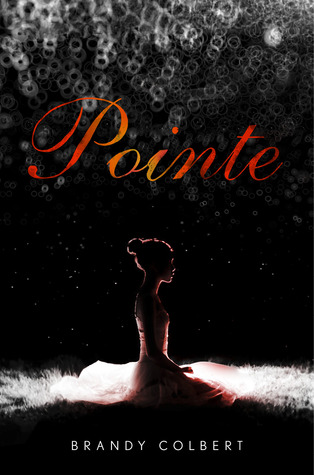 Started with: A lot of positive buzz around the blogosphere, but when I saw that Kelly from Stacked gave this book 5 stars, I knew it was something special, and I knew I needed to read it!
Did it live up to the GUSH?: This book is completely unexpected, in such a good way. It took a while for me to figure out what the direction of this story truly was, but everything comes together so beautifully that it is completely worth picking up and reading!
~*~*~
That's all I got. I have no more energy to think of 2 more. LOL
Comment and let me know what you are GUSHING over so that I can add it to my reading list! 😉
Love and New Laptops,
Jennifer