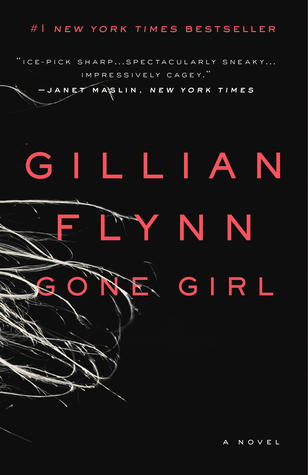 As you probably know by now, I am a HUGE re-reader! I reread books for comfort, to relive my favorite stories. I also reread the previous books in a series when a new book gets published. And I reread books before the movie comes out.
Only not this time.
I read this book right after it came out, having GOBBLED up her first two novels, Sharp Objects and Dark Places. But after reading her novels in publication order, when I got to this one, I found it to be a little more mainstream and a little slow to develop (in a negative way). Had my coworkers not told me it was worth finishing, I would have quit halfway through because I was bored. But I did persist, and I did finish it. And I really did like it overall, once I got halfway through.
Over the last few weeks, since the first trailers for David Fincher's adaptation of this novel started appearing on the internet and TV commercials, I have had an urge to re-read this book, to re-experience this story again before going to see the film adaptation opening weekend.
But then this weekend, I decided I didn't want to re-read it.
Yes, I did shock myself with this conclusion, because I re-read ALL THE BOOKS, all the time. I love revisiting stories.
But my experience with this story the first time around was mixed for me–I didn't love this book. So, I asked myself, why exactly do I want to reread this before the movie?
My answer initially was: Because I reread books before the movie comes out. But is that really a great reason to reread some books? Especially a book that I didn't love?
My new conclusion: No. I do not need to reread this book. I will revisit this story by watching the film. I am really excited for this movie, which surprises me. But from what I do remember about the book, the previews look spot on! I want to be able to enjoy this film as fully as I possibly can, and I think this time….reading the book again may inhibit that.
I just want to go into this film with the same level of excitement I have right now! Maybe after seeing the movie I will revisit the book again.
All I can say is I am looking forward to Friday!
Are any of you going to see this movie? Are you as excited as I am? Talk to me! 😉
Love and Ben Affleck,
Jennifer