Top Ten Tuesday is an original feature/weekly meme create at The Broke and the Bookish.
Today's Top Ten Tuesday is:
Top Ten Books on my Winter TBR List!
I love making seasonal TBR lists because it allows me to really hone in on which books I am SUPER EXCITED for in the coming months. And then when it gets to the next season I realize that I didn't get to hardly any of them! *GASP* From my Fall TBR list, I actually read 6! w00t! Granted, most of them were planned for class, but still! Pretty good! Below are the books I am most excited to get my hands on in the coming months! (We'll see how many of them I get to by Spring!)
December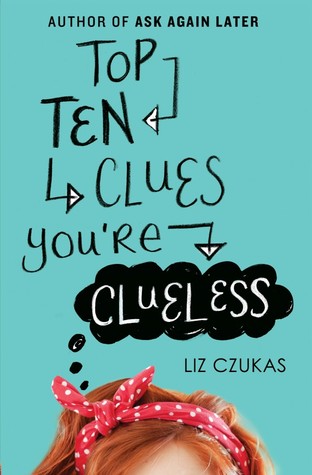 Top Ten Clues You're Clueless by Liz Czukas
Publication Date: December 9th
"Top Five Things That Are Ruining Chloe's Day

5) Working the 6:30 a.m. shift at GoodFoods Market

4) Crashing a cart into a customer's car right in front of her snarky coworker Sammi

3) Trying to rock the "drowned rat" look after being caught in a snowstorm

2) Making zero progress with her crush, Tyson (see #3)

1) Being accused—along with her fellow teenage employees—of stealing upwards of $10,000

Chloe would rather be anywhere than locked in work jail (aka the break room) with five of her coworkers . . . even if one of them is Tyson. But if they can band together to clear their names, what looks like a total disaster might just make Chloe's list of Top Ten Best Moments."
Commentary: This book just sounds ADORABLE!
No Place to Fall by Jaye Robin Brown 

Publication Date: December 9th
"Amber Vaughn is a good girl. She sings solos at church, babysits her nephew after school, and spends every Friday night hanging out at her best friend Devon's house. It's only when Amber goes exploring in the woods near her home, singing camp songs with the hikers she meets on the Appalachian Trail, that she feels free—and when the bigger world feels just a little bit more in reach.

When Amber learns about an audition at the North Carolina School of the Arts, she decides that her dream—to sing on bigger stages—could also be her ticket to a new life. Devon's older (and unavailable) brother, Will, helps Amber prepare for her one chance to try out for the hypercompetitive arts school. But the more time Will and Amber spend together, the more complicated their relationship becomes . . . and Amber starts to wonder if she's such a good girl, after all.

Then, in an afternoon, the bottom drops out of her family's world—and Amber is faced with an impossible choice between her promise as an artist and the people she loves. Amber always thought she knew what a good girl would do. But between "right" and "wrong," there's a whole world of possibilities."
Commentary: I love the fact this takes place on the Appalachian Trail! So intriguing!
January
We Can Work It Out (The Lonely Hearts Club #2) by Elizabeth Eulberg
Publication Date: January 27th
"When Penny Lane started The Lonely Hearts Club, the goal was simple: to show that girls didn't need to define themselves by how guys looked at them, and didn't have to value boyfriends over everything else. Penny thought she'd be an outcast for life . . . but then the club became far more popular than she ever imagined it would be.

But what happens when the girl who never thought she'd date a good guy suddenly finds herself dating a great one? She doesn't need a boyfriend . . . but she wants it to work out with this particular boyfriend. And he wants it to work out with her.

Only, things keep getting in the way. Feelings keep getting hurt. Words keep getting misunderstood.

Penny Lane worked hard to declare her independence. Now she needs to figure out what to do with it — and how to balance what she wants with what everyone else wants. "
Commentary: OMG A SEQUEL TO THIS BOOK! SQUEEEEEEEEEEEEEEEEEEEE!
The Girl on the Train by Paula Hawkins 

Publication Date: January 13th
"Rachel takes the same commuter train every morning and every night. Every day she rattles over the same track junctions, flashes past the same stretch of cozy suburban homes. And every day she stops at the same signal and she sees the same couple, breakfasting on their roof deck, living the perfect life that Rachel craves for herself—a lifestyle she recently lost. She looks forward to observing this household every morning, even makes up names and narratives for its residents. Then one day Rachel sees someone new in their garden, and soon after, the woman who lived there disappears.

Unable to keep this information to herself, Rachel offers what she knows to the police, and in the process is drawn into the lives of the couple she thought of as Jason and Jess but whose names—she has learned from the news—are really Megan and Scott Hipwell.

But the police accuse Rachel of being unreliable, and it's true that her memories can't always be trusted. Plus there are the stories that her ex-husband's new wife has been spreading about her. By the time Megan's body is found, Rachel is in over her head, intricately entangled in the details of the investigation, as well as in the lives of everyone involved. Has she put others in danger? Has she done more harm than good?"
Commentary: I am always excited for debut psychological thrillers! I love getting to know an author's style, especially in this genre!
February
This Side of Home by Renee Watson
Publication Date: February 3rd
"Identical twins Nikki and Maya have been on the same page for everything—friends, school, boys and starting off their adult lives at a historically African-American college. But as their neighborhood goes from rough-and-tumble to up-and-coming, suddenly filled with pretty coffee shops and boutiques, Nikki is thrilled while Maya feels like their home is slipping away. Suddenly, the sisters who had always shared everything must confront their dissenting feelings on the importance of their ethnic and cultural identities and, in the process, learn to separate themselves from the long shadow of their identity as twins.

In her inspired YA debut, Renée Watson explores the experience of young African-American women navigating the traditions and expectations of their culture."
Commentary: This is what diversity is about! I am loving every aspect of this premise!
I'll Meet You There by Heather Demetrios

Publication Date: February 3rd
"If seventeen-year-old Skylar Evans were a typical Creek View girl, her future would involve a double-wide trailer, a baby on her hip, and the graveyard shift at Taco Bell. But after graduation, the only thing standing between straightedge Skylar and art school are three minimum-wage months of summer. Skylar can taste the freedom—that is, until her mother loses her job and everything starts coming apart. Torn between her dreams and the people she loves, Skylar realizes everything she's ever worked for is on the line.

Nineteen-year-old Josh Mitchell had a different ticket out of Creek View: the Marines. But after his leg is blown off in Afghanistan, he returns home, a shell of the cocksure boy he used to be. What brings Skylar and Josh together is working at the Paradise—a quirky motel off California's dusty Highway 99. Despite their differences, their shared isolation turns into an unexpected friendship and soon, something deeper."
Commentary: This just sounds all sorts of good!
Published Before Winter
Gracefully Grayson by Ami Polonsky
Publication Date: November 4th, 2014
"Alone at home, twelve-year-old Grayson Sender glows, immersed in beautiful thoughts and dreams. But at school, Grayson grasps at shadows, determined to fly under the radar. Because Grayson has been holding onto a secret for what seems like forever: "he" is a girl on the inside, stuck in the wrong gender's body.

The weight of this secret is crushing, but leaving it behind would mean facing ridicule, scorn, and rejection. Despite these dangers, Grayson's true self itches to break free. Strengthened by an unexpected friendship and a caring teacher who gives her a chance to step into the spotlight, Grayson might finally have the tools to let her inner light shine."
Commentary: I have been looking forward to this book for a while, and I finally got it at the library! I will be reading this VERY SOON!
Leaving Time by Jodi Picoult 

Publication Date: October 14th, 2014
"For more than a decade, Jenna Metcalf has never stopped thinking about her mother, Alice, who mysteriously disappeared in the wake of a tragic accident. Refusing to believe that she would be abandoned as a young child, Jenna searches for her mother regularly online and pores over the pages of Alice's old journals. A scientist who studied grief among elephants, Alice wrote mostly of her research among the animals she loved, yet Jenna hopes the entries will provide a clue to her mother's whereabouts.

Desperate to find the truth, Jenna enlists two unlikely allies in her quest. The first is Serenity Jones, a psychic who rose to fame finding missing persons—only to later doubt her gifts. The second is Virgil Stanhope, a jaded private detective who originally investigated Alice's case along with the strange, possibly linked death of one of her colleagues. As the three work together to uncover what happened to Alice, they realize that in asking hard questions, they'll have to face even harder answers."
Commentary: This was on my fall TBR, but as there are over 300 holds on this book in my system, I just didn't get the hold in time to read it in the fall. So winter it is! 🙂
Audiobooks on my docket
Revival by Stephen King
"In a small New England town, over half a century ago, a shadow falls over a small boy playing with his toy soldiers. Jamie Morton looks up to see a striking man, the new minister. Charles Jacobs, along with his beautiful wife, will transform the local church. The men and boys are all a bit in love with Mrs. Jacobs; the women and girls feel the same about Reverend Jacobs — including Jamie's mother and beloved sister, Claire. With Jamie, the Reverend shares a deeper bond based on a secret obsession. When tragedy strikes the Jacobs family, this charismatic preacher curses God, mocks all religious belief, and is banished from the shocked town.

Jamie has demons of his own. Wed to his guitar from the age of thirteen, he plays in bands across the country, living the nomadic lifestyle of bar-band rock and roll while fleeing from his family's horrific loss. In his mid-thirties — addicted to heroin, stranded, desperate — Jamie meets Charles Jacobs again, with profound consequences for both men. Their bond becomes a pact beyond even the Devil's devising, and Jamie discovers that revival has many meanings."
Commentary: I always listen to Stephen King. I am excited to listen to this one. It sounds really interesting, for sure!
Yes Please! by Amy Poehler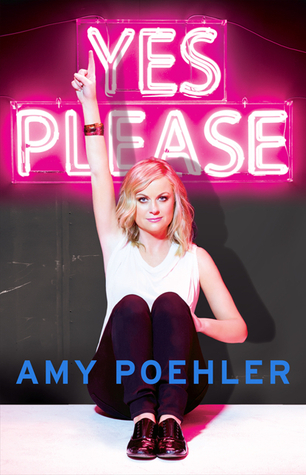 "In Amy Poehler's highly anticipated first book, Yes Please, she offers up a big juicy stew of personal stories, funny bits on sex and love and friendship and parenthood and real life advice (some useful, some not so much), like when to be funny and when to be serious. Powered by Amy's charming and hilarious, biting yet wise voice, Yes Please is a book is full of words to live by."
Commentary: The first audiobook I listened to was Tina Fey's Bossypants. I feel like listening to this one will solidify my jump into audiobook listening in full circle!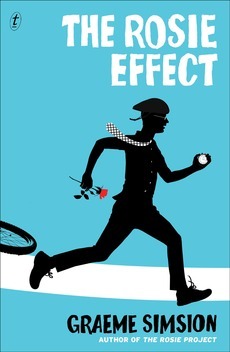 The Rosie Effect by Graeme Simsion
I am not going to give you the summary of this book. You need to go read/listen to The Rosie Project immediately!
Commentary: I LOVED The Rosie Project! I cannot wait to revisit these characters again! And the audiobooks are fantastic! 🙂
 ~*~*~
That's what I have! What is on your TBR list this winter? Comment and let me know!
Love and Sleepytime Tea,
Jennifer