I have gotten behind in my reviewing again. That tends to happen with school. I have been reading books that I have loved and books that I liked okay, but I just haven't felt like I have had a lot to say about them. So I have rounded them up here to give mini-reviews about them! Enjoy!
~*~*~
Carrie by Stephen King
Audiobook, 444 minutes
"The story of misfit high-school girl, Carrie White, who gradually discovers that she has telekinetic powers. Repressed by a domineering, ultra-religious mother and tormented by her peers at school, her efforts to fit in lead to a dramatic confrontation during the senior prom."
My Snippet Review: Read by Carrie herself, Sissy Spacek, Carrie is everything I always thought it would be: thrilling, a little bit terrifying, and a lot of crazy crap! But I was not expecting to have such an emotional reaction to this book. Carrie's mother is SO HORRIBLE, and I just felt so bad for her. I really liked how Sissy read the story–I was really intrigued for every single second. A very solid audiobook, and a really great Stephen King story!
My Bookshelf Rating: A Fourth Shelf Book! (4 out of 5 Stars!) (High School)
~*~*~
Relish: My Life in the Kitchen by Lucy Knisley 
Graphic Novel, 192 pages
"Lucy Knisley loves food. The daughter of a chef and a gourmet, this talented young cartoonist comes by her obsession honestly. In her forthright, thoughtful, and funny memoir, Lucy traces key episodes in her life thus far, framed by what she was eating at the time and lessons learned about food, cooking, and life. Each chapter is bookended with an illustrated recipe—many of them treasured family dishes, and a few of them Lucy's original inventions."
My Snippet Review: A great graphic novel for foodies of all ages! This is a memoir about Lucy's experiences with food, from traveling with her chef mother to getting her first job. Her story-telling is entertaining, and her stories are relateable, even if you have not had the same experiences! Knisley has written her story in a way that any reader will connect with and enjoy! Also, there are visual recipes for some yummy-sounding food! 🙂
My Bookshelf Rating: A Middle Shelf Book! (3.5 out of 5 Stars) (Middle and High School)
~*~*~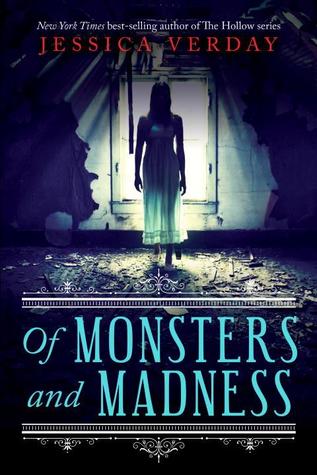 Of Monsters and Madness by Jessica Verday
Hardcover, 277 pages
"Summoned to her father's home in 1820's Philadelphia, a girl finds herself in the midst of a rash of gruesome murders in which he might be implicated. She is torn romantically between her father's assistants-one kind and proper, one mysterious and brooding-who share a dark secret and may have more to do with the violent events than they're letting on."
My Snippet Review: Honestly, I don't really know why I finished this. I guess I just really wanted to see how it ended. But it wasn't worth it. The plot started out intriguing enough, but the characters were flat and rather boring and forgettable. And then it didn't even end! I thought it was a standalone, but it's not. It's an open-ending for a sequel. No thanks!
My Bookshelf Rating: A Second Shelf Book (2 out of 5 Stars) (High School)
~*~*~
The Graveyard Book by Neil Gaiman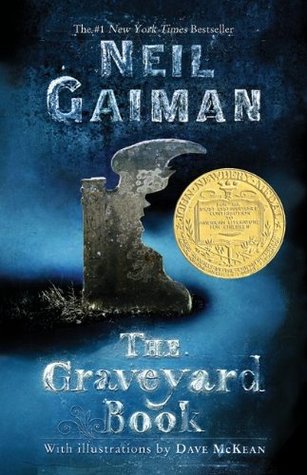 Hardcover, 312 pages
"Nobody Owens, known to his friends as Bod, is a normal boy. He would be completely normal if he didn't live in a sprawling graveyard, being raised and educated by ghosts, with a solitary guardian who belongs to neither the world of the living nor of the dead. There are dangers and adventures in the graveyard for a boy. But if Bod leaves the graveyard, then he will come under attack from the man Jack—who has already killed Bod's family . . ."
My Snippet Review: For me, this book actually read more like a collection of short stories rather than a novel. But that's not a bad thing. Gaiman creates such a magical world in the graveyard, filled with enchantment, adventure, curiosity, and love. Such an understated story that just keeps you entranced with wonder. This is such a unique coming-of-age story, and the illustrations add even more depth to this magical book. If you haven't read it yet, you should.
My Bookshelf Rating: A Fourth Shelf Book! (4 out of 5 Stars) (All ages)
~*~*~
Maggot Moon by Sally Gardner 
Audiobook, 220 minutes
"What if the football hadn't gone over the wall. On the other side of the wall there is a dark secret. And the devil. And the Moon Man. And the Motherland doesn't want anyone to know. But Standish Treadwell — who has different-colored eyes, who can't read, can't write, Standish Treadwell isn't bright — sees things differently than the rest of the "train-track thinkers." So when Standish and his only friend and neighbor, Hector, make their way to the other side of the wall, they see what the Motherland has been hiding. And it's big…"
My Snippet Review: Maggot Moon is one of those books that is difficult to summarize or describe, and yet the power of the story stays with you. If I had to categorize this, I would call it "Historical Science Fiction." This is an alternate history story, and it is powerful. I can't explain to you why, really, because it is so difficult to describe. As for an audiobook, Robert Madge, does a brilliant job at conveying this story with the emotion and genuine voice this story expresses. Though he may take some extremely long pauses for punctuation, Madge's performance is genuine and he makes the story come alive. If you are looking for a short audiobook, you should definitely pick this one up!
My Bookshelf Rating: A Fourth Shelf Book (4 out of 5 Stars) (Middle and High School)
~*~*~
The Truth About Alice by Jennifer Mathieu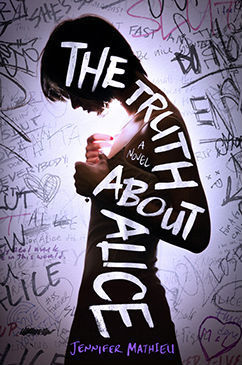 Hardcover, 199 pages
"Rumor has it that Alice Franklin is a slut. It's written all over the bathroom stall at Healy High for everyone to see. And after star quarterback Brandon Fitzsimmons dies in a car accident, the rumors start to spiral out of control. But exactly what is the truth about Alice?"
My Snippet Review: A real story told in a very unique way. It's a very powerful story. This is the story about Alice Franklin, as told through the eyes of four of her classmates. And this story is as much–if not more–about those characters than about Alice herself. There is a lot of growth in this book. It's just a shame that it has to come at the expense of one girl's reputation. But this happens more times than you can count in middle and high school. And I think this book is unique and powerful because it is told from the tellers and the spreaders, not the victim. The truth about Alice is…..she can be anyone you know. And that makes this book incredibly sad.
My Bookshelf Rating: A Fourth Shelf Book! (4 out of 5 Stars) (High School)
~*~*~
Let's Pretend this Never Happened by Jenny Lawson
Audiobook, 521 minutes
"Lawson takes readers on a hilarious journey recalling her bizarre upbringing in rural Texas, her devastatingly awkward high school years, and her relationship with her long-suffering husband, Victor. Chapters include: "Stanley the Magical, Talking Squirrel"; "A Series of Angry Post-It Notes to My Husband"; "My Vagina Is Fine. Thanks for Asking"; "And Then I Snuck a Dead Cuban Alligator on an Airplane."
My Snippet Review: HILARIOUS! Listened to this for my book club, and it was such a great listen! Jenny Lawson narrates this audiobook, and it is 8 hours of pure laugh-out-loud entertainment! I really liked how this is a memoir about a regular lady who has lived a really unusual life filled with taxidermy animals and post-it note arguments. And every single second is just HILARIOUS. Listen to this. It is very inspiring! 😉
My Bookshelf Rating: A Top Shelf Book! (5 out of 5 Stars!) (High School?)
~*~*~
So, there is a rather large collection of some of my reads and listens from the fall. Have you read any of them? What did you think of them? Let me know!
Love and The Hobbit,
Jennifer