Top Ten Tuesday is an original feature/weekly meme create at The Broke and the Bookish.
Today's Top Ten Tuesday is:
Ten Books on my Spring TBR!
Y'all, SO MANY SPRING BOOKS OMG! So I am just going to jump right in to my list!
New Spring Releases
The Orphan Queen by Jodi Meadows 
"Wilhelmina has a hundred identities.

She is a princess. When the Indigo Kingdom conquered her homeland, Wilhelmina and other orphaned children of nobility were taken to Skyvale, the Indigo Kingdom's capital. Ten years later, they are the Ospreys, experts at stealth and theft. With them, Wilhelmina means to take back her throne.

She is a spy. Wil and her best friend, Melanie, infiltrate Skyvale Palace to study their foes. They assume the identities of nobles from a wraith-fallen kingdom, but enemies fill the palace, and Melanie's behavior grows suspicious. With Osprey missions becoming increasingly dangerous and their leader more unstable, Wil can't trust anyone.

She is a threat. Wraith is the toxic by-product of magic, and for a century using magic has been forbidden. Still the wraith pours across the continent, reshaping the land and animals into fresh horrors. Soon it will reach the Indigo Kingdom. Wilhelmina's magic might be the key to stopping the wraith, but if the vigilante Black Knife discovers Wil's magic, she will vanish like all the others."
Under A Painted Sky by Stacey Lee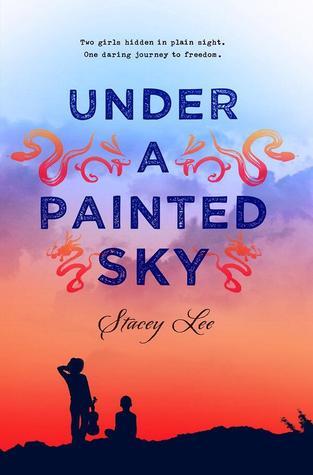 "Missouri, 1849: Samantha dreams of moving back to New York to be a professional musician—not an easy thing if you're a girl, and harder still if you're Chinese. But a tragic accident dashes any hopes of fulfilling her dream, and instead, leaves her fearing for her life. With the help of a runaway slave named Annamae, Samantha flees town for the unknown frontier. But life on the Oregon Trail is unsafe for two girls, so they disguise themselves as Sammy and Andy, two boys headed for the California gold rush. Sammy and Andy forge a powerful bond as they each search for a link to their past, and struggle to avoid any unwanted attention. But when they cross paths with a band of cowboys, the light-hearted troupe turn out to be unexpected allies. With the law closing in on them and new setbacks coming each day, the girls quickly learn that there are not many places to hide on the open trail."
The Bookseller by Cynthia Swanson
"Nothing is as permanent as it appears . . .

Denver, 1962: Kitty Miller has come to terms with her unconventional single life. She loves the bookshop she runs with her best friend, Frieda, and enjoys complete control over her day-to-day existence. She can come and go as she pleases, answering to no one. There was a man once, a doctor named Kevin, but it didn't quite work out the way Kitty had hoped.

Then the dreams begin.

Denver, 1963: Katharyn Andersson is married to Lars, the love of her life. They have beautiful children, an elegant home, and good friends. It's everything Kitty Miller once believed she wanted—but it only exists when she sleeps.

Convinced that these dreams are simply due to her overactive imagination, Kitty enjoys her nighttime forays into this alternate world. But with each visit, the more irresistibly real Katharyn's life becomes. Can she choose which life she wants? If so, what is the cost of staying Kitty, or becoming Katharyn?

As the lines between her worlds begin to blur, Kitty must figure out what is real and what is imagined. And how do we know where that boundary lies in our own lives?"
The Walls Around Us by Nova Ren Suma 
"On the outside, there's Violet, an eighteen-year-old dancer days away from the life of her dreams when something threatens to expose the shocking truth of her achievement.

On the inside, within the walls of the Aurora Hills juvenile detention center, there's Amber, locked up for so long she can't imagine freedom.

Tying their two worlds together is Orianna, who holds the key to unlocking all the girls' darkest mysteries . . .

What really happened on the night Orianna stepped between Violet and her tormentors? What really happened on two strange nights at Aurora Hills? Will Amber and Violet and Orianna ever get the justice they deserve—in this life or in another one?"
The Island of Dr. Libris by Chris Grabenstein 
"What if your favorite characters came to life? Billy's spending the summer in a lakeside cabin that belongs to the mysterious Dr. Libris. But something strange is going on. Besides the security cameras everywhere, there's Dr. Libris's private bookcase. Whenever Billy opens the books inside, he can hear sounds coming from the island in the middle of the lake. The clash of swords. The twang of arrows. Sometimes he can even feel the ground shaking. It's almost as if the stories he's reading are coming to life! But that's impossible . . . isn't it?"
Normal by Graeme Cameron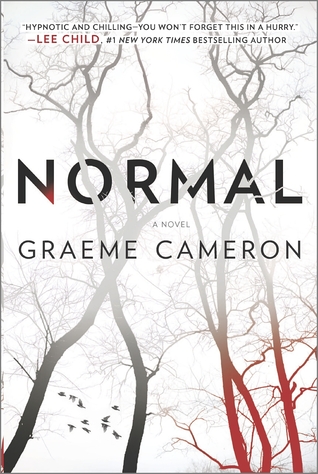 "He lives in your community, in a nice house with a well-tended garden. He shops in your grocery store, bumping shoulders with you and apologizing with a smile. He drives beside you on the highway, politely waving you into the lane ahead of him.

What you don't know is that he has an elaborate cage built into a secret basement under his garage. And the food that he's carefully shopping for is to feed a young woman he's holding there against her will—one in a string of many, unaware of the fate that awaits her.

This is how it's been for a long time. It's normal…and it works. Perfectly.

Then he meets the checkout girl from the 24-hour grocery. And now the plan, the hunts, the room…the others. He doesn't need any of them anymore. He needs only her. But just as he decides to go straight, the police start to close in. He might be able to cover his tracks, except for one small problem—he still has someone trapped in his garage.

Discovering his humanity couldn't have come at a worse time."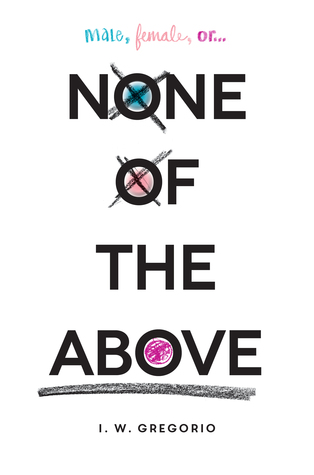 None of the Above by I.W. Gregorio
"What if everything you knew about yourself changed in an instant?

When Kristin Lattimer is voted homecoming queen, it seems like another piece of her ideal life has fallen into place. She's a champion hurdler with a full scholarship to college and she's madly in love with her boyfriend. In fact, she's decided that she's ready to take things to the next level with him.

But Kristin's first time isn't the perfect moment she's planned–something is very wrong. A visit to the doctor reveals the truth: Kristin is intersex, which means that though she outwardly looks like a girl, she has male chromosomes, not to mention boy "parts."

Dealing with her body is difficult enough, but when her diagnosis is leaked to the whole school, Kristin's entire identity is thrown into question. As her world unravels, can she come to terms with her new self?"
Simon vs. The Homo Sapians Agenda by Becky Albertalli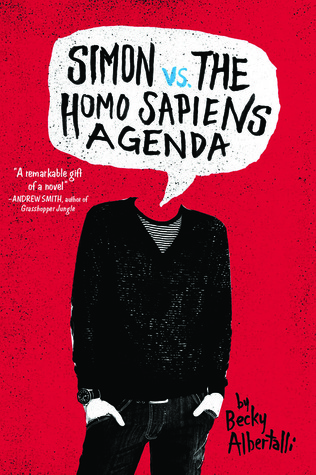 "Sixteen-year-old and not-so-openly gay Simon Spier prefers to save his drama for the school musical. But when an email falls into the wrong hands, his secret is at risk of being thrust into the spotlight. Now Simon is actually being blackmailed: if he doesn't play wingman for class clown Martin, his sexual identity will become everyone's business. Worse, the privacy of Blue, the pen name of the boy he's been emailing, will be compromised.

With some messy dynamics emerging in his once tight-knit group of friends, and his email correspondence with Blue growing more flirtatious every day, Simon's junior year has suddenly gotten all kinds of complicated. Now, change-averse Simon has to find a way to step out of his comfort zone before he's pushed out—without alienating his friends, compromising himself, or fumbling a shot at happiness with the most confusing, adorable guy he's never met."
The Water and the Wild by K.E. Orsmbee
"For as long as Lottie Fiske can remember, the only people who seem to care about her have been her best friend, Eliot, and the mysterious letter-writer who sends her birthday gifts. But now strange things and people are arriving on the island Lottie calls home, and Eliot's getting sicker, with a disease the doctors have given up trying to cure. Lottie is helpless, useless, powerless.

And then a door opens in the apple tree.

Follow Lottie down through the apple roots to another world—a world of magic both treacherous and beautiful—in pursuit of the impossible: a cure for the incurable, a use for the useless, and protection against the pain of loss."
Comics and Graphic Novels
Ms. Marvel Volume 2 by G. Willow Wilson, Illustrated by Jacob Wyatt and Adrian Alphona
"Who is the Inventor, and what does he want with the all-new Ms. Marvel and all her friends? Maybe Wolverine can help! Kamala may be fan-girling out when her favorite (okay maybe Top Five) super hero shows up, but that won't stop her from protecting her hometown. Then, Kamala crosses paths with Inhumanity for the first time – by meeting the royal dog, Lockjaw! Every girl wants a puppy, but this one may be too much of a handful, even for a super hero with embiggening powers. But why is Lockjaw really with Kamala? As Ms. Marvel discovers more about her past, the Inventor continues to threaten her future. The fan-favorite, critically acclaimed, amazing new series continues as Kamala Khan proves why she's the best (and most adorable) new super hero there is!"
The Lunch Witch by Deb Lucke
"For generations and generations, the women of Grunhilda's family have stirred up trouble in a big, black pot. Grunhilda inherits her famous ancestors' recipes and cauldron, but no one believes in magic anymore.  Despite the fact that Grunhilda's only useful skill is cooking up potfuls of foul brew, she finds a job listing that might suit her: lunch lady. She delights in scaring the kids until she meets a timid little girl named Madison with a big set of glasses who becomes an unlikely friend. Madison needs help at school and at home, but helping people goes against everything Grunhilda's believes in as a witch! Will this girl be able to thaw the Lunch Witch's icy heart? Or will Grunhilda turn her back on a kindred spirit?"
Spring Audiobooks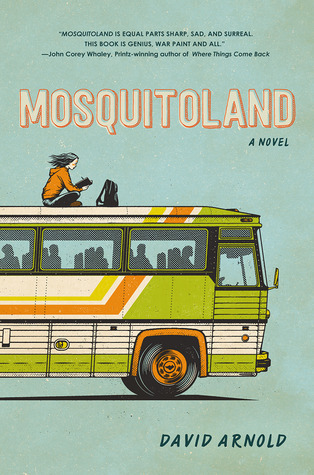 Mosquitoland by David Arnold 
"I am a collection of oddities, a circus of neurons and electrons: my heart is the ringmaster, my soul is the trapeze artist, and the world is my audience. It sounds strange because it is, and it is, because I am strange."

After the sudden collapse of her family, Mim Malone is dragged from her home in northern Ohio to the "wastelands" of Mississippi, where she lives in a medicated milieu with her dad and new stepmom. Before the dust has a chance to settle, she learns her mother is sick back in Cleveland.
So she ditches her new life and hops aboard a northbound Greyhound bus to her real home and her real mother, meeting a quirky cast of fellow travelers along the way. But when her thousand-mile journey takes a few turns she could never see coming, Mim must confront her own demons, redefining her notions of love, loyalty, and what it means to be sane.
Told in an unforgettable, kaleidoscopic voice, "Mosquitoland" is a modern American odyssey, as hilarious as it is heartbreaking."
A Feast for Crows by George R. R. Martin
"With A Feast for Crows, Martin delivers the long-awaited fourth volume of the landmark series that has redefined imaginative fiction and stands as a modern masterpiece in the making."
Bonus: May Release
The Heir by Kiera Cass: Because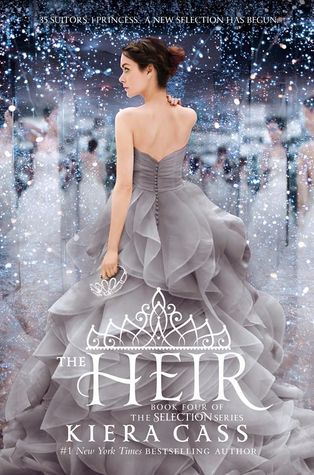 SQUEEEEEEEEEEEEEEEEEEEEEEEEEEEEEEEEEE EEEEEEEEEEEEEEEEEEEEEEEEEEEEEEEEEEEEE  EEEEEEEEEEEEEEEEEEEEEEEEEEEEEEEEEEEEE EEEEEEEEEEEEEEEEEEEEEEEEEEEEEEEEEEEEE EEEEEEEEEEEEEEEEEEEEEEEEEEEEEEEEEEEEE EEEEEEEEEEEEEEEEEEEEEEEEEEEEEEEEEEEEE EEEEEEEEEEEEEEEEEEEEEEEEEEEEEEEEEEEEE EEEEEEEEEEEEEEEEEEEEEEEEEEEEEEEEEEEE EEEEEEEEEEEEE!!!!!!!!!!!!!! 🙂
So those are a number of books I am wanting to get to this Spring. What's on your list? Comment and let me know!
Love and Gold Fish,
Jennifer